On Tuesday afternoon, North Carolina secured a graduation transfer commitment from Tennessee's running back Ty Chandler. The Nashville, Tennessee, 5-foot-11, 93-pound native is using the extra eligibility COVID-19 to play a season at UNC.
Chandler appeared in 46 games, with 25 matches, during his four years in Tennessee. It ranks 5th in UT history in multipurpose yards, with 3,291. He ran for 2,046 yards and 13 touchdowns in 421 runs (average 4.9) during his volunteering career. He also picked up 58 passes for 465 yards and three TDs. He also returned 35 kickoffs, for which he averaged 22.3 yards per return, and his initial total of 724 return yards ranks 14th in school history.
Inside Carolina spoke to GoVols247 recruiting editor Ryan Callahan about Chandler as a player and person to get an idea of ​​what the newest Tar Heel could bring to North Carolina football in the 2021 season.
Do you know why Chandler wanted to transfer and leave Tennessee?
"I haven't spoken to Ty since all this happened, but I think it was pretty clear that he was perhaps Tennessee's second choice in the racing game for most of the season, after sophomore year Eric Gray who took this year as the best running back in Tennessee. Chandler had some cool games this year. There were times when he took a step forward for different reasons and made some good games, but he was not the guy this year. With the extra season of eligibility and a second chance in the last year, it makes sense for game time reasons that he might look for an opportunity to capitalize on a heavier workload elsewhere.
"He has stable production in Tennessee. He leaves with more than 2,000 running yards in his career, but has never had more than 135 shipments in one season. He always shared the shipments and looked like he was under Jeremy Pruitt, at least in the past two years, that he had fallen out of favor or had not become the preferred option in the racing game. He has always been involved in most of the game plan, but he may not have got the role he would like to have. Like most transfers, you can probably point to playing time as one of the main motivations, but if there was anything else, I'm not sure. "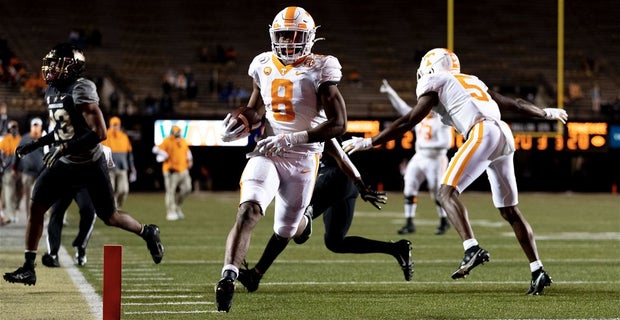 Tell us about Chandler's game and what it can bring to the UNC backfield:
"I would still say that speed is your strength. I wouldn't say he is a burner that can necessarily overtake anyone, but he has good speed and has the potential to take someone home if he finds a seam. He was a highly ranked guy out of high school, so in a way that I think many would say he didn't live up to expectations in Tennessee … but he averaged 4.9 yards per charge in his Tennessee career and played on some teams that have lost records. When you consider all of that, he had a pretty solid career, but his production was a little up and down.
"He showed the ability to interrupt some long runs. He had an 81-yard touchdown a few years ago, a 53-yard touchdown in 2019, so he can do that. Where his game hadn't developed so much to be a runner between tackles. I think he could run with a little more stamina, break more tackles, make people miss and get to the second and third level. Things like that to go out in the open. But once he bounces off, he has the potential to do some things happen in the open. He's a talented guy, but I think there's another level in his game that I think he can reach. For whatever reason, he wasn't able to maximize his potential in Tennessee. He has some skills that can be used elsewhere. "
What is Chandler as a person?
"He's a bit of a quiet guy. I think he was more comfortable with himself when he spoke openly as he got older. Obviously, he talked to the media more throughout his career, as he got older and more comfortable in that environment. Leaving school, you may not be shy, but just a discreet boy. He didn't want to draw much attention on social media. He had his head down, worked hard every day, a grinder mentality. He was not concerned with all the other things that many important recruits are … he just put the job and did what he needed to do in the field. He achieved some high numbers in high school.
"Is he going to be that veteran leader who will take over the locker room? I definitely didn't expect this. He's not the type of leader in that sense, but I think he will be a stable and pleasant presence, one that gets along very well with people and should fit perfectly in almost any locker room. He's a nice boy and I think he's going to get along and it should fit very well with Tommy Thigpen and Robert Gillespie in North Carolina, some guys that he knows very well. "
Do you think Chandler will be an effective pass catcher off the field?
"He did a little bit of that. As much as Tennessee did with the launch for running backs in the passing game. He had double-digit receptions every year in Tennessee, so it was a part of his game, but I wouldn't say it's a focal point. He could probably continue to develop in that area. He is at least able to help as a receiver outside the field, but not necessarily a force. "
Callahan noted that Chandler has gotten bigger since he entered college: "When he entered college, he was in the 190 pound range and is now more than 205. And I think the weight difference helped him run more powerful and be he can develop a little more this mentality of breaking barriers. "